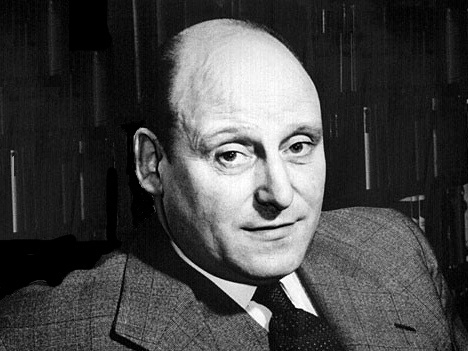 One of the most popular private detectives of all time, once upon a time, PAUL TEMPLE was a popular British private detective who made his first appearance in a BBC radio serial in 1938 and went on to appear in novels, film, television and even a daily comic strip. And on the radio itself for a whopping thirty-year run.
Temple is a crime writer turned private eye, who is frequently "sent for" by Scotland Yard to help out. Aiding him in his investigations are his faithful wife, Steve, and Sir Graham Forbes of Scotland Yard. The stories themselves are often quite suspenseful, and the radio serials were full of cliff-hanger endings, but nobody's going to mistake Temple for a member of the hard-boiled school. They're invariably set in the genteel world of the upper classes, even if Temple himself is closer to say, Sherlock Holmes as opposed to Miss Marple. According to 20th Century Crime and Mystery Writers, Francis Durbridge, Temple's creator, is "a master of the cliff-hanger, albeit verbal rather than unpleasantly physical. Durbridge has kept tight control over his creation over the years, being involved in almost all subsequent projects. The books were merely quickie novelizations of the radio scripts at first, but as the character's popularity increased, wholly original adventures were soon being printed. A few of the books were even credited to "Paul Temple," actually a pseudonym of Durbridge and fellow writer Douglas Rutherford.
There were four films in the forties, and in the fifties, a daily comic strip ran in the U.K. And in the late sixties, a television show made it on to the air, in colour even (all the films had been in black and white). There were other changes as well — for the first time, Francis Durbridge relinquished control and didn't write the stories. Also, instead of the much-loved serials of the radio show, the series featured standalone episodes for the most part. Even more disconcerting to older fans were that the series was set squarely in to the swinging 60s, often abroad, and many of the old characters, such as Sir Graham Forbes, were tossed, although new characters were added to the roster. Still, the show proved popular enough to run for four series.
Not a bad run at all, if you ask me. Even now, I get quite a bit of mail about this character, and it's not all from Brits of a certain age.
UNDER OATH
In a burst of nostalgia I came across your page about Paul Temple. You expected the interest will be limited to "Brits of certain age". Well, I'm definitely of certain age, but I must tell you that the Paul Temple radio series was a big hit in Israel in the early sixties. Streets were empty on Monday 21:00 when it was broadcasted (in Hebrew, of course). I remember myself in my own Bat-Mitzvah (my 12th birthday) sneaking out of the banquet hall with my transistor, not to miss the weekly program." (Blessing from Rachel, in Israël)
"One thing that fascinated me as an 11-year-old in 1938, prior to being evacuated out of London to where no radio was available, was the music. Both the intro and ending were awesome, hair-raising stuff… I never forgot it." (George Sautereau).
RADIO PLAYS
PAUL TEMPLE
(1938-1968, BBC)
28 shows, most 8-part serials (except where noted)
Written by Francis Durbridge
Producer: Martyn C. Webster
Theme music: "Coronation Scot" composed by Vivian Ellis
Starring Hugh Morton as PAUL TEMPLE (later replaced by Carl Bernard, Barry Morse, Howard Marion Crawford, Kim Peacock and Peter Coke)
Bernadette Hodgson as Steve Trent
(later replaced by Marjorie Westbury, Thea Holme and Lucille Lisle) and Lester Mudditt (1938 – 1958) as Sir Graham Forbes
(later replaced by Richard Williams and James Thomason)
SEND FOR PAUL TEMPLE
(April 8, 1938)
8-part serial
Starring Hugh Morton as PAUL TEMPLE
and Bernadette Hodgson as Steve
PAUL TEMPLE AND THE FRONT PAGE MEN
(November 2, 1938) deel 8
8-part serial
Starring Hugh Morton as PAUL TEMPLE
and Bernadette Hodgson as Steve
NEWS OF PAUL TEMPLE
(November 13, 1939)
6-parts serial
Starring Hugh Morton as PAUL TEMPLE
and Bernadette Hodgson as Steve
SEND FOR PAUL TEMPLE
(October 13, 1941)
60 minute abridged story
Starring Carl Bernard as PAUL TEMPLE
and Thea Holme as Steve
PAUL TEMPLE INTERVENES
(October 30, 1942)
8-part serial
Starring Carl Bernard as PAUL TEMPLE
and Bernadette Hodgson as Steve
NEWS OF PAUL TEMPLE
(July 5, 1944)
60 minute episode
Starring Richard Williams as PAUL TEMPLE
and Lucille Lisle as Steve
SEND FOR PAUL TEMPLE AGAIN
(September 13, 1945) deel 6
8-part serial
Starring Barry Morse as PAUL TEMPLE
A CASE FOR PAUL TEMPLE
(February 7, 1946)
8-part serial
Starring Howard Marion Crawford as PAUL TEMPLE
PAUL TEMPLE AND THE GREGORY AFFAIR
(October 17, 1946)
10-part serial
Starring Kim Peacock as PAUL TEMPLE
PAUL TEMPLE AND STEVE
(March 30, 1947)
8-part serial
Starring Kim Peacock as PAUL TEMPLE
MR. AND MRS. PAUL TEMPLE
(November 23, 1947)
45 minute episode
Starring Kim Peacock as PAUL TEMPLE
PAUL TEMPLE AND THE SULLIVAN MYSTERY
(December 1, 1947)
8-part serial
Starring Kim Peacock as PAUL TEMPLE
PAUL TEMPLE AND THE CURZON CASE
(December 7, 1948)
8-part serial
Starring Kim Peacock as PAUL TEMPLE
PAUL TEMPLE AND THE MADISON MYSTERY
(October 12, 1949)
8-part serial
Starring Kim Peacock as PAUL TEMPLE
PAUL TEMPLE AND THE VAN DYKE AFFAIR
(October 31, 1950)
8-part serial
Starring Kim Peacock as PAUL TEMPLE
PAUL TEMPLE AND THE JONATHAN MYSTERY
(May 10, 1951)
8-part serial
Starring Kim Peacock as PAUL TEMPLE
PAUL TEMPLE AND STEVE AGAIN
(April 8, 1953)
60 minute episode
Starring Kim Peacock as PAUL TEMPLE
PAUL TEMPLE AND THE GILBERT CASE
(March 29, 1954)
8-part serial
Starring Peter Coke as PAUL TEMPLE
PAUL TEMPLE AND THE MADISON MYSTERY
(June 20, 1955)
8-part serial, remake of previous serial
Starring Peter Coke as PAUL TEMPLE
PAUL TEMPLE AND THE LAWRENCE AFFAIR
(April 11, 1956)
8-part serial
Starring Peter Coke as PAUL TEMPLE
PAUL TEMPLE AND THE SPENCER AFFAIR
(November 13, 1957)
8-part serial
Starring Peter Coke as PAUL TEMPLE
PAUL TEMPLE AND THE VAN DYKE AFFAIR
(January 1, 1959)
8-part serial, remake of previous serial
Starring Peter Coke as PAUL TEMPLE
PAUL TEMPLE AND THE CONRAD CASE
(March 2, 1959)
8-part serial
Starring Peter Coke as PAUL TEMPLE
PAUL TEMPLE AND THE GILBERT CASE
(November 22, 1959)
8-part serial, remake of previous serial
Starring Peter Coke as PAUL TEMPLE
PAUL TEMPLE AND THE MARGO MYSTERY
(January 1, 1961)
8-part serial
Starring Peter Coke as PAUL Temple
PAUL TEMPLE AND THE JONATHAN MYSTERY
(October 14, 1963)
8-part serial, remake of previous serial
Starring Peter Coke as PAUL TEMPLE
PAUL TEMPLE AND THE GENEVA MYSTERY
(April 11, 1965)
6-part serial
Starring Peter Coke as PAUL TEMPLE
PAUL TEMPLE AND THE ALEX AFFAIR
(February 26, 1968)
8-part serial, remake of previous serial
Starring Peter Coke as PAUL TEMPLE
PAUL TEMPLE AND THE SULLIVAN MYSTERY
(August 7, 2006)
8-part serial, remake of previous serial (1947)
Starring Crawford Logan as PAUL TEMPLE
PAUL TEMPLE AND THE MADISON MYSTERY
(2008)
8-part serial, remake of previous serial
Starring Peter Coke as PAUL TEMPLE